The W. Brewster Snow Award
2016 W. Brewster Snow Award Recipient: Gregory Hinds
Advisor: Dr. Sarina Ergas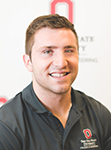 Mr. Gregory Hinds graduated with a BS in Civil & Environmental Engineering from California State University, Chico (GPA = 3.77) and was awarded an MS degree in Environmental Engineering from the University of South Florida (GPA = 3.95). His graduate GPA was 3.95 (out of 4.0) and his graduate advisor was Dr. Sarina Ergas. His MS thesis research examined the use of high solids anaerobic digestion for bioenergy production from the organic fraction of municipal solid waste. His platform presentation at the 2016 Global Waste Management Symposium won 1st prize for Best Student Presentation. He is lead author of a book chapter on high solids anaerobic digestion and also a manuscript submitted to Environmental Engineering Science. Greg also wrote articles about his research for the Florida SWANA newsletter and an IWA specialist group newsletter.
His senior design project developed a wastewater export and treatment system for Lake Atitlán, Guatemala. He traveled to Guatemala to present his capstone design report to engineering professionals at the Regional School of Sanitary Engineering at the University of San Carlos and has coauthored a paper in review about this project with the Journal of Ecological Engineering.
Greg is a member of SWANA, AWWA, and ASCE. While an undergraduate, Greg received an Academic Achievement Award from ASCE and was also an active member of the Sustainable Engineering and Health for Development student chapter. He is currently working as a stormwater and restoration engineer with Wildscape Engineering, a consulting firm in the Tahoe area of Northern California.
---
Past Recipients
| | |
| --- | --- |
| Year | Recipient |
| 2015 | John Trimmer |
| 2014 | Abhinav Gupta |
| 2013 | Dustin Bales |
| 2012 | Sarah Ness |
| 2011 | John Maxwell |
---
Awarded to an outstanding engineering student currently pursuing or recently completing a Masters degree in Environmental Engineering or closely related degree program.
Goals:
The goals of the W. Brewster Snow Award Program include:
To recognize talented and dedicated environmental engineers as practice and technical leaders of the future.
To demonstrate the Academy's interest in encouraging engineers preparing for a career of professional environmental engineering contribution.
To provide talented and dedicated environmental engineers with a tangible documentation of early professional achievement.
To inspire future engineering students to pursue graduate environmental engineering education.
Who Qualifies:
Part or full time environmental engineering graduate students who are pursuing a Masters degree in Environmental Engineering or closely related degree program, or received a Masters degree in Environmental Engineering or closely related degree program, no more than one year prior to January 1 of the year in which the Snow Award is presented, are eligible.
The Snow Award is awarded on an annual year basis and shall be presented at the Annual Academy Awards event.
Only one recipient shall be chosen in any award year.
No individual may receive more than one Snow Award.
Environmental engineering graduate status criteria for the Snow Award include:

Part or full time enrollment and full admission in an environmental engineering graduate program pursuing a Masters degree in Environmental Engineering or closely related degree program or,
Completion of a Masters degree in Environmental Engineering, or closely related degree program, 1 year of less from January 1 of the year in which the Snow Award is presented.

Academic performance criteria for the Snow Award include:

GPA (minimum of 3.3) in Masters degree program coursework as documented by transcript.
Documented successful completion of the Fundamentals of Engineering Exam.
Two academic letters of recommendation.

Professional or community service criteria for the Snow Award shall include:

Evidence of active participation in student chapter or regular chapters of an engineering related professional society and/or
Evidence of active participation in school, community or church service activities.

Employment or academic engineering project accomplishment criteria for the Snow Award include:

Applicant prepared summary (limit 1 page) of accomplishment in an engineering project in the candidates workplace employment if a part time graduate student or recently graduated Masters degree recipient or,
Applicant prepared summary (limit 1 page) of accomplishment in a graduate engineering thesis, project or study approved by the student's graduate department

Purpose and Goals criteria include:

Applicant prepared statement of purpose in pursuing a Master degree and goals for first 5 years of professional practice.

The Snow Award Subcommittee may also consider other evidence of merit e.g., papers, honors, recognitions, etc., that in the judgment of the subcommittee shall have advanced the Academy's objectives.
---
William Brewster Snow, Ph.D., P.E., DEE
William Brewster Snow was born in Durham, N.C. on November 22, 1910. Horace North and Sue Blake (Sheetz) Snow were his parents. He attended Morehead Grammar and Central High Schools in Durham.
He was educated in civil engineering at Duke University and was awarded a B.S. C.E. in 1932. Since the engineering department was initiated in 1927, he was one of the first students to have a Duke engineering degree conferred.
During the Great Depression period from 1934-37 he was employed as a rod man and then instrument man with the N. C. State Highway and Public Works Commission. Close to his 26th birthday, he married Edith Horne Leach on November 28, 1936. Brewster and Edith raised a son and daughter, William Brewster II and Sabin Tucker Snow.
From 1937-41, he served as Assistant Division Engineer and Registered Public Health Engineer with the GA Department of Public Health. He enrolled in the graduate program at Harvard University and was also an Assistant Engineer with Boston Consulting Engineer Samuel M. Ellsworth during the construction of sanitary facilities at Camp Edwards (Massachusetts) and the Naval Construction Training Camps at Davisville, RI. He was awarded the Masters of Science (Sanitary Engineering) from Harvard in 1942.
From 1943-46, he was an Acting Associate Professor Sanitary Engineering, School of Public Health, University of N. C., Chapel Hill, N.C. He served on the Program Committee and the instructional staff of the 1943 and 1946 Annual Short Schools of the NC Water Works Operators Association. During that period he performed graduate work at Harvard University and completed a ScD. (Sanitary Engineering) in 1948 with a thesis title "Biochemical Oxidation Demand of Chlorinated Sewage".
Dr. Snow was an Associate Professor Civil Engineering in the College of Engineering at Duke University from 1948-53. In 1950 he was appointed Marshal of Duke University. He was one of the founders of the series of conferences that guided the State of North Carolina's implementation of its State Stream Sanitation Law that was passed in 1951. While at Duke, Brewster participated in a summer sabbatical at Oak Ridge National Laboratory evaluating sanitary engineering processes for radioactive wastes. He was on the organizing committee for the First and Second of the Southern Municipal and Industrial Waste Conferences and spoke at the First in 1953 with a paper on "The Biochemical Oxygen Test as an Indicator of Pollution" and to the Sixth in 1957 with a paper entitled "Ultimate Disposal of Radioactive Wastes."
In 1953 he became Head and Professor of Civil Engineering and Sanitary Engineering, Department of Civil Engineering, Rutgers University, New Brunswick, N.J. After serving as Chairman of the Department for three years he elected to step down from administration and concentrate on his stronger interest in teaching and research. To facilitate this move he hired Dr. Marvin Granstrom to succeed him.
He contributed five papers for technical journals and wrote two books, The Highway and the Landscape, 1959, B.F Sturtevant Company and On Maintaining A Trace of Residual Chlorine In Water Distribution Systems with John Charles Geyer, 1955, National Academy of Sciences, Washington, D.C. He initiated the annual New Jersey Parkway Authority conference dealing with highway and transportation engineering and participated in a summer sabbatical at Brookhaven National Laboratory on Long Island working on nuclear waste management. Dr. Snow continued as professor until he retired in 1970.
During his academic career he was invited into the following honorary societies: Phi Beta Kappa, Pi Kappa Phi, Tau Beta Pi, Chi Epsilon, Omicron Delta Kappa, Delta Omega.
Upon leaving Rutgers in 1970, he worked part time with the New York consulting firm of Lawler, Matusky and Skelly until 1975 providing quality assurance/quality control for a number of the firm's environmental reports. Throughout his career he had an unabiding interest in education of undergraduate and graduate engineers. For him, building tomorrow's engineers was more important than research.
His professional memberships included: A.S.C.E., A.P.H.A. (F), A.W.W.A., N.J. Sewage & Industrial Wastes Association., A.A.A.S., Sigma XI, A.S. E.E., N.J.S.PE., A.A.U.P. National Research Council (member Subcommittee: On water supply 1952-54). Brewster was also a member of the Mayflower Descendants.
In 1977, he established the Brewster Snow Endowment at Duke that is used for the enhancement of the environmental engineering program. The money was initially used for helping students in the summer and other non-restricted uses. In 1979 the William Brewster Snow Award was established and awarded continuously since then. It is given annually to the civil engineering graduate who has demonstrated academic excellence, interest and enthusiasm in the study of environmental engineering. He is also a past winner of the Duke University Engineering Distinguished Alumni Award.