2019 EESF Scholarship Campaign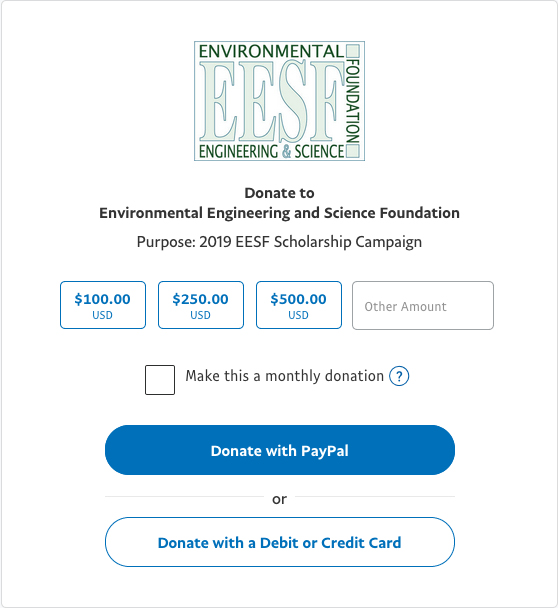 ---
As of January 10, 2020
GOAL: $15,000 Reached!
---
The Environmental Engineering and Science Foundation (EESF) has as its Mission "to secure and direct resources to advance environmental engineering and science in the areas of research, education and practice". Towards that end, the Board of EESF has created four annual scholarships for Environmental Engineering and Environmental Science students at the undergraduate and Master's levels.
EESF is seeking your support for this Campaign. Your donation will be vital to achieving our goal of funding the four scholarships at a level of $2,500 per student per year for an annual goal of $15,000 to provide future funding. Upon achieving this goal, EESF will select one student in each of the following categories:
Undergraduate Environmental Engineering
Master's level Environmental Engineering
Undergraduate Environmental Science
Master's level Environmental Science
The two undergraduate scholarships will target students transferring from Community Colleges.
Please help achieve our goal by contributing at a level of $50, $100, $250, $500 or another amount as outlined on this web page. Please also consider making a convenient automatic monthly donation from your credit card of $10 to $50 per month. Once set up, it will be automatically deducted until such time as you decide to terminate the contribution. We sincerely thank you for helping EESF achieve our mission of supporting education in the fields of Environmental Engineering and Environmental Science.
We encourage you to make a donation through this page; however, we also accept donations by check and ACH/Wire transfers. One other contribution mechanism that is "tax-smart" is to make a qualified charitable distribution (QCD) from your IRA (other than a SEP or SIMPLE IRA) to EESF. You must be at least age 70½ when the distribution is made. Using this approach may avoid tax on the portion of your required minimum distribution (RMD) that you contribute to EESF. The contribution must flow directly from your IRA trustee to EESF to avoid taxation. For more information, please contact your IRA administrator and see IRS Publication 590-B. To make a contribution by check, ACH/Wire transfer, or a QCD please contact Burk Kalweit at BKalweit@aaees.org.